The draft of the night time commerce that modified the profession of Ray Allen & Stephon Marbury
This story appears in a magazine devoted to the most iconic design class of all time. Get your copy.
Stephon Marbury has always been one of Ray Allen's biggest fans.
Their relationship dates back to the late 1980s when they both established themselves as emerging stars on the square. Allen was a few years older, but they still overlapped and bonded in warehouses and display cases. The respect was mutual. The love of the game was shared. They knew their paths would cross for a long time.
"Ray and I were really good friends when I was in 8th or 9th grade," says Steph. "Ray was at the Nike All-American Camp and they didn't pick him as a top 20 player and I cried because they didn't pick him. I was so crazy. I swear to God. I was so mad that they did didn't pick him, that I cried to him like, man, it's messed up. They should have picked you man. You're one of the best players. How are you not going to be on the team? It's all politics. It is crazy."
Marbury recognized the talent in Allen immediately and vice versa. As teenagers pursuing this dream of the NBA, they could envision competing in the league one day. But they couldn't possibly have predicted that they would become professionals in the same historical design class and trade against each other at the same time before they could ever assert themselves at the highest level.
While Allen was putting the finishing touches to an outstanding UConn career in 1995-96 and winning Big East Player of the Year, Marbury took over the ACC as a freshman at Georgia Tech. By the end of that season, it was clear that both guys were more than ready for the NBA.
DIG YOUR COPY OF SLAM PRESENTS '96 DESIGN FOR EVEN MORE GOODS FROM THE ISSUE.
The Milwaukee Bucks picked Marbury # 4 in the 96 Draft. The Minnesota Timberwolves took Allen 5th shortly afterwards. Ray was shocked when it happened after missing an invitation to visit Minnesota because they already had a fixed two-watch in JR Rider. When Marbury finished fourth, he was sure he would head to Boston in 6th – a prospect he was thrilled to see. Celtics President Red Auerbach had called Allen beforehand and told him that they would take him if he was still on the board in due course.
"So it's Minnesota on the clock and the cameras are coming to my table. I was so confused that I couldn't believe what happened," says Allen. "I was pissed off. I thought, why choose me when you already have JR Rider on your roster?
"(After I'm selected) I go into the background and talk to Minnesota people, their local news networks," he continues. "I'm here filibustering about how it will be with JR Rider. I didn't know how it was going to work. It just didn't make sense to me. And within five minutes of those conversations someone removed me from the NBA and said, that I was traded to Milwaukee. "
Sure enough, Commissioner David Stern soon returned to the stage to announce that Stephon and Ray had been swapped, and Minnesota sent a first-round player to Milwaukee in 1998. It was among the biggest draft day moves in league history, and its core members reacted very differently to it.
"Everyone in Milwaukee was booing at the time," recalls Allen. "The media ask me all these questions and let me know that they are exploiting the trade. I was so depressed in one day that I felt I was the happiest time of my life. I was so frustrated, confused and disappointed. I'm laughing at it now, but it was an emotional roller coaster ride back then and I thought I should have been happier than I actually was. "
"I didn't care," says Marbury, thinking back. "I was in the NBA. It didn't matter. I basically talked about playing with Glenn Robinson and Vin Baker, and then I talked about playing with Kevin Garnett. That's what happened. "
The deal meant Steph reunited with KG, a longtime friend who was the same age but jumped straight from high school to the pros in 1995 as the number 1 pick. Led by this dynamic duo, the T-Wolves made the playoffs immediately. Marbury was appointed to the All-Rookie First Team with an average of 15.8 points and 7.8 assists.
(embed) https://www.youtube.com/watch?v=0PaaiuKbphE (/ embed)
Garnett and Marbury were one of the most electrifying 1-2 strokes in the union for two and a half seasons. Then Stephon, who didn't like living in Minnesota and expressed his wish to be elsewhere, was sold to the New Jersey Nets. (Coincidentally, that three-team deal included Allen & # 39; s Bucks, which received Sam Cassell, Paul Grant and Chris Gatling.) He was All-Star twice and then played in China, where he won three CBA titles and an MVP forgive.
In Milwaukee, Allen also had an immediate impact. He was in the franchise for nearly seven seasons, playing three All-Star games and three playoff games. In 2000-01 he led the team to a 50-win campaign against Allen Iverson's 76 in the Eastern Conference finals. The Bucks sent him to Seattle in February 2003 and started a new chapter that eventually led him to several championships – one of which, ironically, was won with Garnett in Boston.
(embed) https://www.youtube.com/watch?v=Ag9oouHQN-M (/ embed)
The truth is, regardless of where they ended up, Marbury and Allen had to thrive. Their intertwined paths went in exactly the same direction. In retrospect, it is difficult for either of them to have regrets or to think about trips other than the successful ones they followed. Long before basketball became a business, they foresaw this success in each other.
However, there is one score they never set.
"To this day I tell Stephon that he owes me 200 grand," says Allen with a smile, "because that was the difference in salary from the fourth to the fifth choice."
– –
SLAM PRESENTS '96 DESIGN IS NOW AVAILABLE.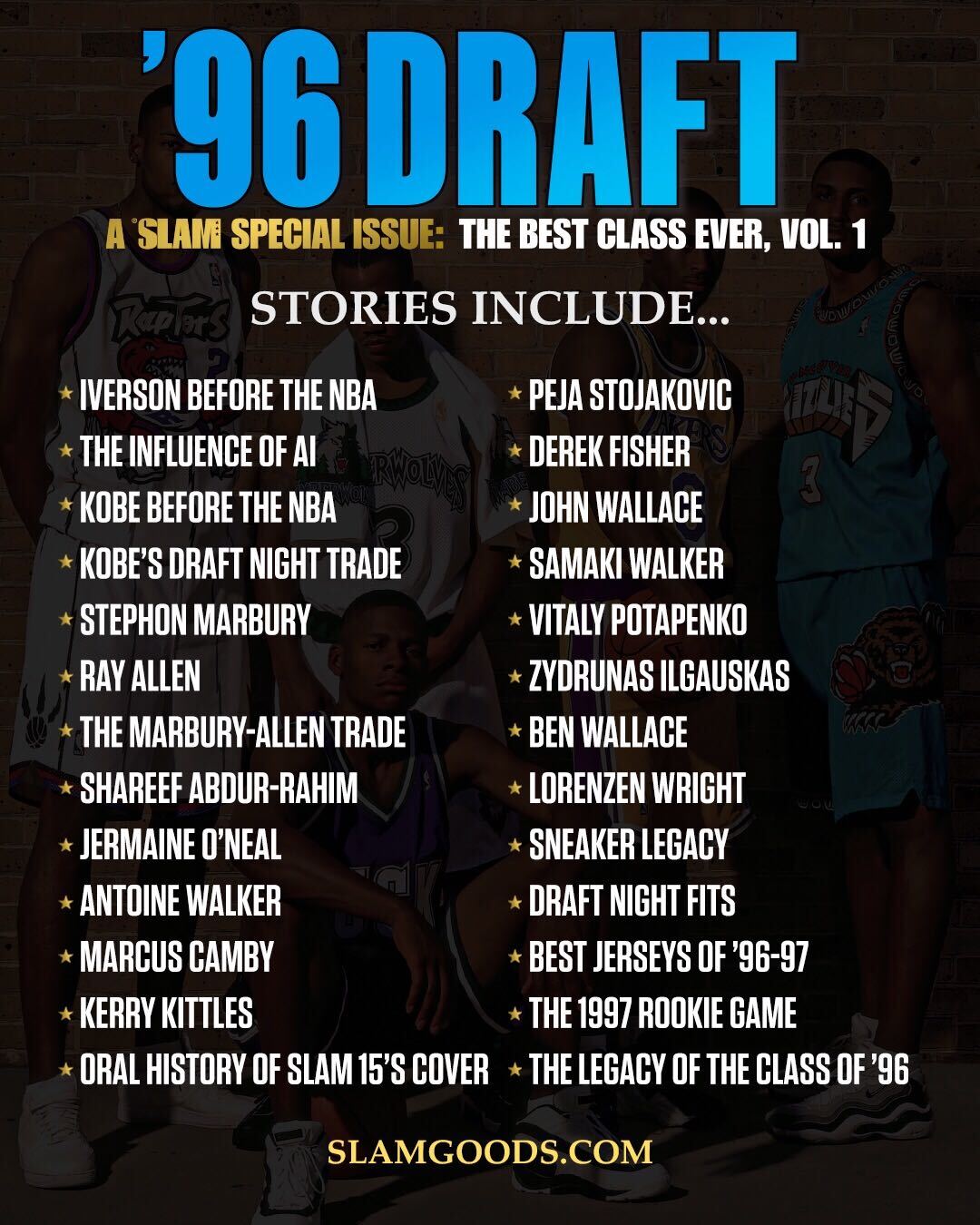 1