Olympic Trials Wave I: Day three Outcomes, Day four Preview
By Reach for the Wall Staff
The third night of the final began with the Women & # 39; s 400 Freestyle. In the first run, Nicole Fye (Ohio State / FISH) held the top seed (9th overall) and swam hard throughout the race. It improved from the 8th after the first 50 to the 6th. Congratulations Nicole!
The next race for a PVS swimmer was the Women & # 39; s 100 Butterfly, in which Lexi Cuomo moved into the A-final as 3rd place. Lexi was aggressive from the start and first touched the 50 in 27.49, 0.08 ahead of the top seeded Trude Rothrock. The lead changed several times in the last 50 meters and Nikki Venema hit the wall first, closely followed by Lexi, who left Gigi Johnson behind by 0.03 !! Lexi achieved best times in both swimming runs and finished the A-final in 1: 00.06 !!
Lexie Cuomo in her interview after the 100th butterfly with a greeting to the Mason Makos!
In the men's 200 backstroke, two PVS swimmers competed, Drew Carbone (Unattached) in the B final and Sam O'Brien (FISH) in the A final. Drew qualified 16th and took the opportunity to race. He was in second place in the top 50 and held that position throughout the race, but on the finishing touches he hit in 3rd place. The three winners were only 0.68 seconds apart, the second was missing by 0.03 in a draw. Drew's final time of 2: 02.65 was well ahead of his lead time and better than his start time. Sam O'Brien was the next to qualify as 7th in the A final. Sam struggled and was in a very close race, in the end he kept his seeded position in seventh place. While his swimming in the finals wasn't his best time, he was "in the race" the whole time and was cheered on by many from home – congratulations Sam !!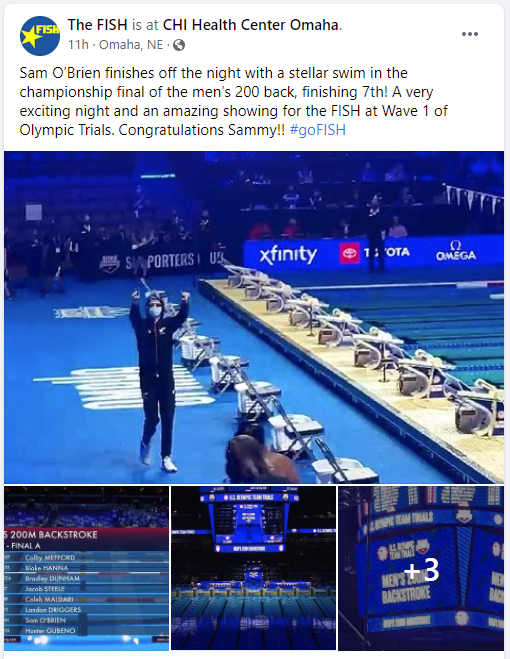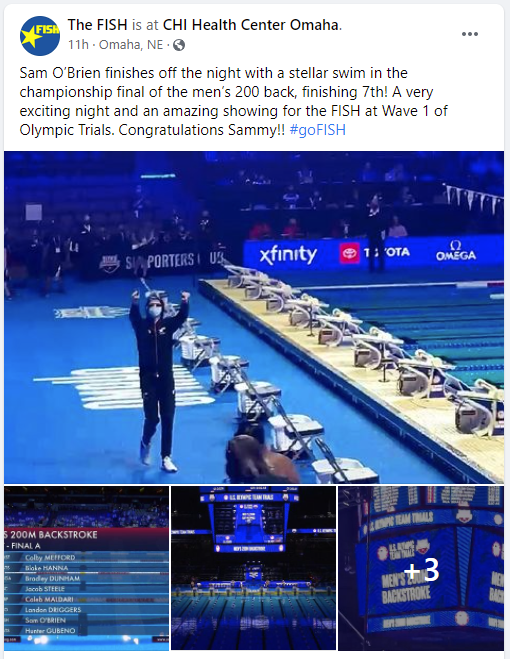 Photo courtesy of the FISH Facebook page
Today (Day 4) is the final day of competition for Wave I and includes 200IM, 50 freestyle, 200 breaststroke and 1500 freestyle. All livestream coverage will be available on NBCOlympics.com and the NBC Sports app.
Here is the rundown of today's PVS swimmers:
Women 50 Freestyle: Lexi Cuomo (UVA / MAKO), Missy Cundiff (William & Mary / SNOW), Camille Spink (NCAP), Katie Mack (NCAP), Tatum Wall (NCAP)
200 men's breaststroke: Jakob Frick (NCAP)