Olympic trials wave I: PVS swimmers outperform on the ultimate day
By Reach for the Wall Staff
On the final night of the finals, several current and former PVS swimmers competed for the chance to advance in Wave II. The Women's 50 Freestyle was the first event with Tatum Wall (NCAP) and Katie Mack (Florida / NCAP) in the B final. Katie Mack took over the race and finished 1st in 25.78, 0.02 ahead of runner-up Marina Spadoni. Tatum Wall sprinted on December 26th. to the 8th place.
Katie Mack (NCAP) after winning the B final of the Women & # 39; s 50 Freestyle
The top seed Missy Cundiff (William & Mary / SNOW) and third-placed Camille Spink (NCAP) were in the A-final. Both girls set personal bests in their preliminary swims and were ready to bloom in the finals. Missy had the fastest response time at the start and didn't give up her lead for the Splash and Dash event. She won in a time of 25.46 and undercut her lead time by 0.03 seconds. Camille was just behind Missy throughout the race and came in second with 25.54 points! This time was also her best time, she beat her pre-swim by 0.09 seconds and secured a place in Wave II for the second time as she also won the 100 Freestyle on the first day of the meeting!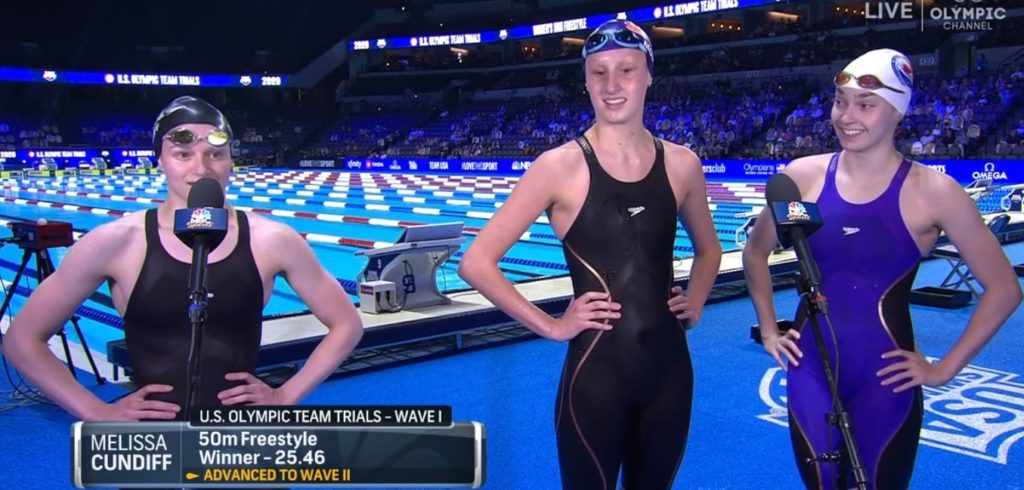 Missy Cundiff and Camille Spink will be interviewed after the 50th freestyle.
In the men's 50 Freestyle, Corey Shepherd (Air Force / Occoquan) made it into the B final with a best time of 22.94 from the heats. Corey took his chance and lost his time again, finishing 22.85 and finishing 4th in the race!
The men's 200 breaststroke was the only other event where a PVS swimmer competed with Jakob Frick (NCAP), who had the top position from the heats. Jakob was aggressive in his tactics for the race and got the first 100 in 1: 04.47 (which was actually a bit slower than his pre-swim, where he ran 1: 04.15). Jakob held the lead over 150 meters and fell 0.020 behind the win with a personal best of 2: 14.40! Second place gives him the opportunity to swim both his 200 and 100 breaststrokes again next week in Wave II! Keep up the good work Jakob!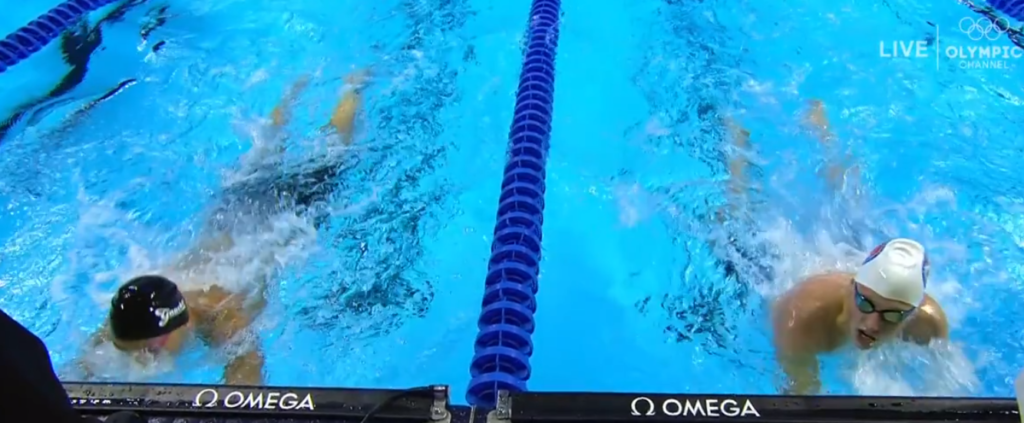 Jakob Frick in the men's 200th goal
Congratulations to those who move on to Wave II, which starts on Sunday June 13th! We'll watch and do our best to highlight all of the DMV / PVS swimmers fighting for their place to represent the USA on the Olympic team!
If you're traveling to Omaha and want to share your experience, please contact us at: operations@reachforthewall.org, we'll be happy to give you some space to tell your story!